Manatee School For The Arts provides transportation to and from school that serves most areas of Manatee County.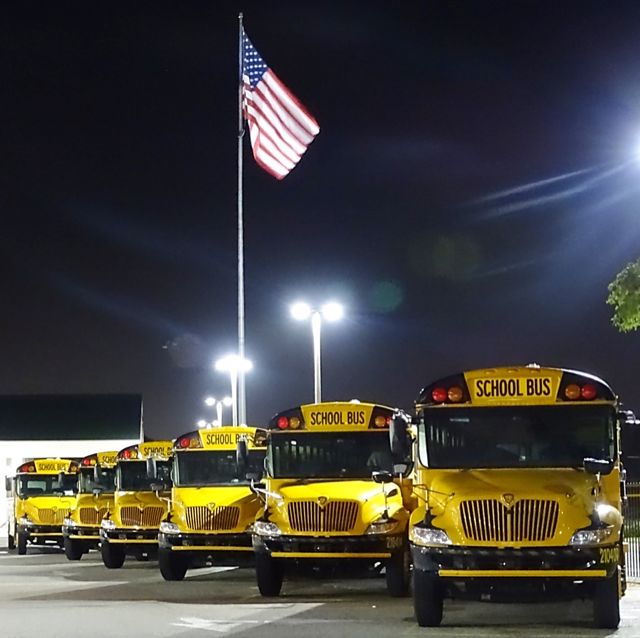 At MSA we are committed to the safety of our students and school. Ensuring access to learning requires that students get to and from school safely, regardless of their mode of travel. With safety in mind, our buses are equipped with safer anti-collision technology, online apps to view bus location in real time, SMS (text) notifications for parents and guardians to track when students enter and leave the bus, and even student WIFI.
If your student is needing a bus assignment, you will need to use the link below to register. (If you have already registered, please do not fill this out again.)
Transportation General Information:
You can contact our Transportation Department Hotline Monday-Friday (941-909-4538) from  6am-6:30pm or email at msabus@msaschool.org

Parents may request an appointment Monday-Friday 9am-4:30pm by calling or emailing the transportation department.

Student stops are structured for students to walk safely, up to a mile to the closest bus stop. (Stops are determined by location within our service areas). 

All school buses are equipped with lap seatbelts. Students are instructed to wear seatbelts at all times while the bus is in motion.

Parents are responsible for ensuring that their child is picked up/dropped off at the assigned Hub stop location.

Your child is required to ride at least 3x a week to hold their spot on the bus.

In order to control bus capacities and keep our students safe, all students MUST be registered and assigned to a bus prior to riding. Each student in your family that needs to ride should be individually registered.
If a bus is running late, a

late notification will be sent to parents if a bus is more than 15 minutes late. (Register for the Bus Hub App below)
The School Bus Hub App is designed to ensure our parents and students have the most up to date school bus information – receiving real-time bus arrival notifications, and GPS tracking.
The links to the brochures on the "School Bus Hub" and our MSA registration instructions are below.
The School Bus Hub App is available for download online
(Apple or Android)
Once you download the app, you will need to follow these instructions to create an account to gain access to your student(s) route info:
**At this time parents are not able to register for the MSA School Bus Hub notifications. More information will be provided as soon as possible.**
Thank you for your continued ridership. If you have any questions or concerns please contact the Transportation Customer Hotline at 941-721-6800 Option #1.
Should you have any questions, or need immediate assistance we have a new MSA Bus Transportation HOTLINE that will be available Monday-Friday from 6am until 6:30pm. The direct hotline is 941.909.4538. You may also contact us at  msabus@msaschool.org  
Students Riding School Buses Or Other School Vehicles
Students shall ride only the school bus on which they are registered, and may not ride another bus on which they are not registered. Bus passes to allow students to temporarily ride another bus will not be issued. Allow three (3) days for changes in bus assignments. The following are the responsibilities of students and parents in regard to transportation: 
RESPONSIBILITIES OF STUDENTS 
Occupy the seat assigned by the driver and remain seated while the bus is in motion.

Observe classroom conduct except for ordinary conversation. 

Obey the driver and report to Student Support when told to do so. 

Warn the driver of approaching danger, if there is reason to believe the driver is not aware of the danger. 

Be at the place designated, both morning and evening, ready to board the bus fifteen (15) minutes before it is scheduled to arrive. The bus cannot wait for those who are tardy.

Stay off the roadway at all times while waiting for a bus, and conduct themselves in an orderly manner. 

Wait until the bus has come to a complete stop before attempting to get on or off.

Leave the bus only with the consent of the driver. 

Cross the road, if necessary, after leaving the bus in the following manner:

 Wait at the side of the road within sight and hearing of the driver 

Wait for proper signal for crossing 

Look both to the right and left and proceed across the highway in front of the bus upon signal from the driver. 

Keep head and hands inside the bus windows at all times. 

Be silent when approaching or crossing a railroad. 

Leave the bus by the emergency door only when told to do so by the driver, or in case of an emergency that is life threatening. 

Refrain from eating, drinking or smoking while on the bus. 

Board and leave the bus at their regular stop. 

Refrain from the use of profanity or abusive language on the bus. 

Refrain from carrying large objects without prior permission, including band

instruments that might interfere with seating.

Animals, snakes, frogs, etc., glass containers, sharp objects, balls, bats, cutting instruments, fireworks, laser pointers, and any other similar items are not allowed on the bus. 

Students are prohibited from taking cell phone photos and capturing video while on the bus. 

Any behavior on the bus or at the bus stop that violates school rules or has a negative effect on the health, safety, or welfare of the school community will be disciplined as per school rules.
RESPONSIBILITIES OF PARENTS 
Make certain their children arrive at their bus stop fifteen (15) minutes before the scheduled arrival time of the bus. 

Ensure a safe environment for their children going to and from the bus stop.

Accept joint responsibility with school authorities for proper behavior of their child(ren). 

Make a reasonable effort to understand and cooperate with those responsible for student transportation. 

Damage to a bus or another vehicle by your child will result in you being required to pay for the damages. 
BEHAVIOR WHILE RIDING THE BUS 
The school believes that you and your fellow students, as well as the bus driver, should be able to ride safely on the school bus. In addition to bus specific consequences, you may be disciplined for any action on the bus or at the bus stop the same as if it happened in school. Students are under continual video surveillance whenever they are on a school bus. 
When on the bus, the bus driver is in charge. For your safety and the safety of others on the bus, you must follow all rules and directions. Bus drivers and the school will normally keep a seating chart. YOU MAY NOT RIDE ANY BUS OTHER THAN YOUR ASSIGNED BUS. You can be disciplined if you do not follow all school rules, including the following specific rules: 
Sit in your assigned seat and use the seatbelt if available. 

Stay seated at all times while the bus is in motion. 

Do not place any part of your body outside the bus window. 

Do not distract the driver with loud conversations or noises. 

Observe appropriate classroom behavior. 

Do not eat or drink, other than water, on the bus. 

Maintain absolute silence at railroad crossings. 

Do not throw anything out of the bus or bus windows. 

Do not display signs from the bus. 

Do not use obscene language or gestures. 
If you commit any infraction, the school bus driver has the right to address your behavior. If you cause repeated problems on the bus, the bus driver will give the school a written discipline referral of your actions. School administrators will take any action contained in this Code against you for misbehavior on the bus or at a bus stop. 
Discipline on the school bus will be dealt with according to school protocols. However, severe infractions (for example, fighting, vaping, sexual behavior of any type) may result in immediate suspension based on the recommendation of the principal or designee. 
School Bus Safety
SHARE THE ROAD
Click the links below to see what you, as a member of the Manatee School For The Arts community, can do to help prevent accidents, injuries and become a safer driver while sharing our roads and highways with school buses!
Keeping Children Safe In and Around the School Bus